Dateien tauschen die zu gross sind um sie einfach per mail zu verschicken? Keine Lust einen  One-Click-Hoster bzw. Filehoster zu nutzen? Natuerlich bieten sich da verschiedene Loesungen an, aber eine wirkliche einfache und schicke Loesung bieten folgende Produkte: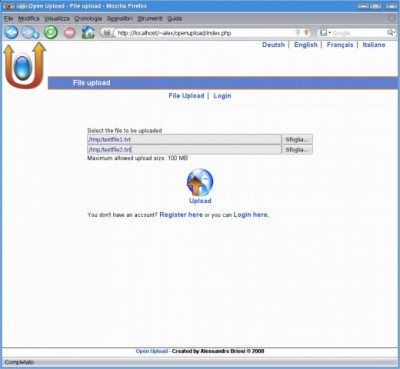 Ist schick, einfach und funktioniert. Verschiedene Modi sind moeglich (privat, public usw.). Benutzer koennen Ihre Dateien selbst verwalten und expire Zeiten koennen global und fuer Gruppen definiert werden.
Access control by groups
Template Driven
Internationalization
Vast Database Support (MySQL, Postgress, Flat file)
Multiple user authentication backends (database, LDAP, AD)
Plugins to control file upload/download limits / functionality (password protection, captcha, email, banned IP,…)
und und und
Findet man alles auf der Seite des Projekts. Das letzte Update ist  noch nicht so lang her (Stable version 0.4.2 – 2010.11.20).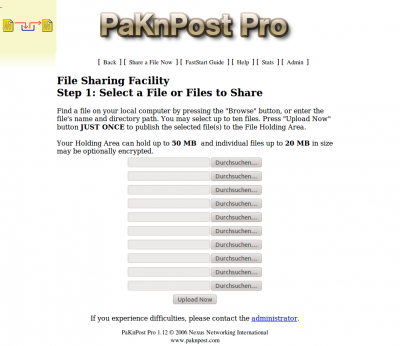 Ist in Perl geschrieben und das letzte Update ist anscheinend von 2007.  Die Software bietet einige sehr nuetzliche Funktionen wie z. b. Beschraenkung auf bestimmte Domains, optionale Verschluesselung der abgelegten Dateien usw.
System configuration via password protected Web interface, or direct edit of text configuration files
Admin defined username/password for Web configuration manager. Password is encrypted
Admin defined shared file retention period with automatic Holding Area cleanup
Admin definable limit on the number of notification emails sent to multiple recipients to minimise spam
Admin optional check of User entered email addresses for valid email servers
Admin optional virus scanning of uploaded files
Admin optional restriction of domains able to access PaKnPost Pro
Admin optional restriction of networks or individual machines able to access PaKnPost Pro
Admin optional restriction of file-types
Admin optional limit on uploaded file size
Admin optional graphical validation code to minimise spam
Admin optional set User defined username/password protection of Holding Area to further protect shared file
Admin definable file size limits for encrypting files
und und und
Meiner Meinung nach bietet PaknPostPro einige sehr nuetzliche Features mehr. Leider wirkt es etwas altbacken und ich bin mir nicht sicher ob das Projekt ueberhaupt noch betreut wird. Eine Benutzerverwaltung wie bei Open-Upload ist auch nicht vorhanden.
Persoenlich tendiere ich eher zu Open-Upload, falls jemand noch bessere Alternativen kennt immer her damit (ausser filez, dass ist doof). Natuerlich gibt es auch kommerzielle Anbieter, die einen das Geld aus der Tasche ziehen wollen, aber warum nicht (falls ueberhaupt noetig) einfach den Quellcode an die Beduerfnisse anpassen?